"I would let the weeds grow, for weeds to some are wildflowers to others."

Laura Jepson, Founder of Lichgate on High Road
Weeds and Deeds maintains and manages an herb garden as part of the three acres of gardens at Lichgate on High Road. We grow medicinal plants, focusing on perennials and small trees. The garden is an educational space and a source of herbs for our projects to promote physical healing and mental and emotional well-being.
History of the Site
Lichgate on High Road is an active representation of the spirit of ecological preservation, gender activism, and community interdependence that exists in Tallahassee, Florida. It was officially recognized as a historic site and registered in the U.S. National Register of Historic Places in March of 2006.1
Lichgate was the home of Dr. Laura Jepson, a professor of comparative literature at Florida State University from 1946 to 1978. Dr. Jepson filed a gender discrimination lawsuit against the University in 1972 after experiencing a repeated pattern of being passed up for promotion and raises that went to her male counterparts. The settlement from this suit allowed her to support the Tallahassee Museum of History & Natural Science, the Leon County Humane Society (she was a founding member of both), and the property that became Lichgate. She originally tried to get a loan to purchase the three acre property, which was once a cow pasture, with the aim of preserving the Lichgate Oak. She was turned down. The bank seemed to think her claim that she planned to "buy a tree" was ludicrous. She described the exchange in her book.
"To purchase the acres I had to arrange a loan. I went to the bank, "I am going to buy a tree," I said. "A what?" asked the surprised official. "A tree on High Road," I answered, more specifically. "Are you an art teacher?" he inquired. He could think of no one more impractical. I left the bank without a loan. The official is now president of the bank. A friend lent me five thousand dollars and in 1956, I was ready to begin peopling my place with the spirits of Merrie England."2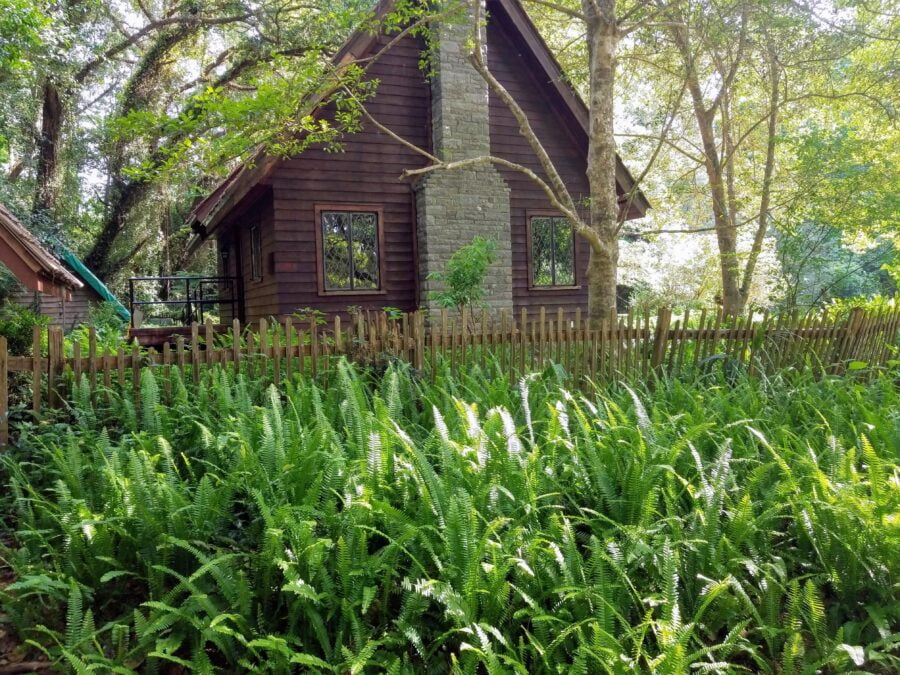 Ludicrous or not, Jepson accomplished what she set out to do and the Lichgate Oak was registered with the Live Oak Society.3 Dr. Jepson went on to build a cottage made of primarily repurposed wood.
The name Lichgate comes from the namesake structure built on the side of the cabin. The meaning of the prefix "lich-" is corpse. A lichgate was traditionally a place to rest a coffin between a church and burial ground to give pallbearers a break. Symbolically, it is a place between life and death.
Dr. Jepson passed away December 24, 1995 and requested her ashes be scattered around her beloved tree. In a sense, her three wishes for Lichgate have come true. She said she hoped for Lichgate to be a place, "to conquer time, to preserve the essence of the past, and to escape into reality."
Upon her death, Dr. Jepson willed the property to the Nature Conservancy, but legal issues stood in the way. The property was slated to be sold for commercial development until a small group of people, many of them former students of Jepson's, formed the Laura Jepson Institute as a non-profit to preserve the oak and cabin in her memory and for the purpose of education.
The Lichgate Gardens
The gardens at Lichgate have been largely maintained by local volunteers, groups, and community members throughout the years. Due to Tallahassee's transitional college population, involvement has naturally ebbed and flowed and groups have come and gone. In the past, groups such as the Damayan Garden Project & Leon County Extension have been a part of the history of the development and maintenance of the gardens at Lichgate.
Phoenix Fermin, an Herbalist and the former regional director for the Florida School of Holistic Living and former Director of Education at Lichgate on High Road, was instrumental in installing medicinal plants at Lichgate and maintaining the gardens from 2011-2019 after which she relocated with her family.
Weeds and Deeds' Partnership with Lichgate
Weeds and Deeds recognized the need for new support with the Lichgate gardens, started communications with leadership in early 2020, and is now, as of Summer 2020, in the process of restoring the Community Garden. We hope to continue to build on the work of the countless previous supporters and to expand upon the work of Dr. Jepson by adding more plants that will attract pollinators and her beloved birds. There are many pollinator friendly plants that also have medicinal properties. As was her wish, we hope the Lichgate garden can serve as an educational hub for the community. To support this aim we are hosting weekly community garden work days. Over time, we will also ethically harvest plants growing on the property to give back to the community in the form of alternative medicinal preparations and plant cuttings.
Members of Weeds and Deeds have a longstanding relationship with Lichgate and feel a spiritual connection to it. More importantly, the values and principles upon which Lichgate was founded align with our vision and mission, including those of community education, the value of cultural wisdom, and respect for our environment.
Eva first fell in love with the property in early 2005 while searching for a small wedding venue. They remember walking into the property and feeling like they had stepped into a different world. Shortly after they became a volunteer and the Lichgate Oak has been a witness to many of their celebrated life events.
Likewise, Rei fell in love with Lichgate because it was so different from anywhere else in Tallahassee and yet hidden in plain sight. They have frequented the site with family and friends since they relocated to Tallahassee from Melbourne in 2014.