A partnership with The Tallahassee Backpack Project
The idea to make herbal care kits took form in early 2020 as the COVID-19 pandemic began. As a group looking to make health alternatives accessible to marginalized communities, an herbalism project to serve the unhomed population in Tallahassee seemed like a good place to start. Access to herbal healing knowledge and remedies empowers folks to care of themselves and of their neighbors.
In April, shelters in Tallahassee were charged with transitioning people from group living to "non-congregate" living arrangements to comply with social distancing policies. The Big Bend Continuum of Care's 2019 Point in Time count identified 966 unhomed people in Leon, Wakulla, and Gadsden counties. In total, the Kearney Center in Leon County reported moving 277 individuals into temporary housing that complied with social distance guidelines. Many people were forced out onto the streets to await sheltering plans during the transition and due to circumstances, these already taxed programs were forced to turn down people newly seeking shelter.
While health related conditions can prompt losing housing, unhomed life can also greatly exacerbate health conditions. Contributing factors can include: limited access to health care, problems getting enough food, trouble staying safe, violence, stress, unsanitary living conditions, and exposure to severe weather. Unhomed individuals are also extremely susceptible to lung diseases.1 Given that people with respiratory conditions are high risk when contracting COVID-19, as it aggravates the respiratory system, this was deeply concerning for our unhomed population as well as for general public health.
While handwashing is the best prevention against disease, it assumes that everyone has ready access to clean running water and soap, but unhoused folks are often discouraged from using the restrooms at stores and other establishments. In addition, hand sanitizers that are alcohol based can overdry skin, particularly for unhoused populations already dealing with skin conditions aggravated by Florida's hot and humid climate. Such conditions can include insect bites, sunburn, and fungal infections.
Given all of this, our first action item was to create two herbal salves; one with antiseptic properties and another with antifungal properties.Our second concern was how to get those items out to individuals who are still out on the street. This is where we knew partnering with other local grassroots projects was of the essence.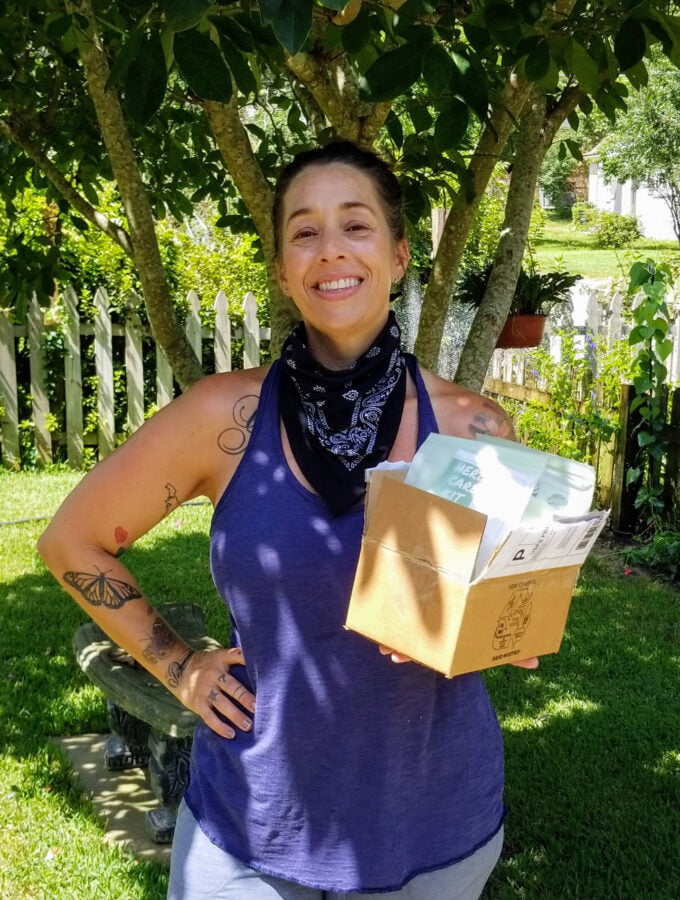 The Tallahassee Backpack Project is a community grassroots project started by Amy Garvin Rodgers. Amy and Eva did not meet through social services or local non-profit work. Instead, they met because they have similarly aged children and kept running into each other at children's birthday parties and other engagements.
Amy has been collecting essential items to distribute to Tallahassee's unhoused community since 2016. She is a self-made activist who simply decided to pack up her car with stuff, kids in tow, and put names and stories to the faces of Tallahassee's unhomed. First, she distributed items in disposable bags, but she quickly realized that these individuals had nowhere to safely store those items. So she began putting the supplies in backpacks, and the Tallahassee Backpack Project was born!
We reached out to Amy with our idea and got to working. We have created one batch of herbal care kits and plan to expand the items we make to include in our second, and subsequent, batches to include items like herbal insect repellants, sunscreens, wound salves, toothache pain killers, and more.