The Macon community is one of the oldest "intact" communities in Leon County. In 1876, Henry Macon Sr., a freed slave, paid $1,600 for the 320 acres. He sold parcels of the land off to other Black families, some of whose descendents still live in the neighborhood.1
Community Garden
The Macon community garden provides fresh produce to the community much of the year. Some families have individual plots, but much of the garden is worked by volunteers and the harvests are distributed through the Mount Zion Primitive Baptist Church. For many years the garden was managed by a community member, Mrs. Patricia Byrd, until she passed in 2018. Since then the garden has been supported by Sustainable Tallahassee and managed by Lizette Kelly. Volunteers from the immediate community work alongside volunteers from the Unitarian Universalist Church of Tallahassee and Weeds and Deeds to plant, harvest, and maintain the garden.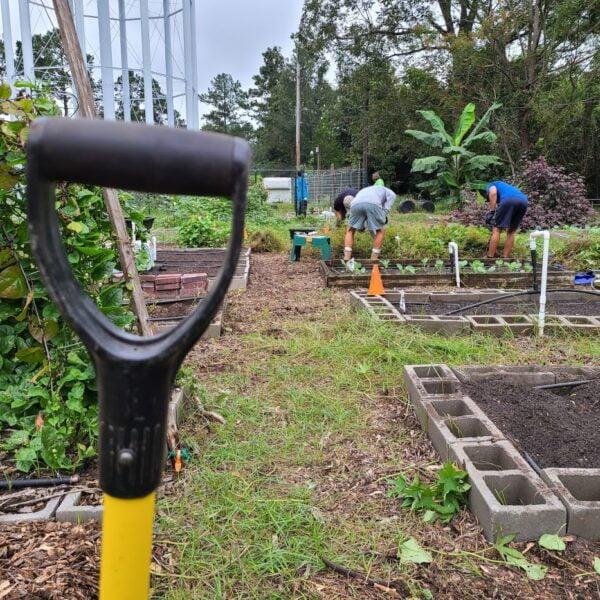 In the Fall of 2020, Weeds and Deeds, added an herb spiral as a centerpiece of the gardening space. A variety of medicinal and culinary herbs are grown in the garden including, rosemary, mullein, mint, catnip, hibiscus and more. The garden is also an abundant source of chickweed, a native "weed" with healing properties.
Looking Forward
The garden is expanding in 2021 to include perennial bushes and fruit trees. Among these new selections, we will be growing red raspberries. Besides, the yummy fruit, red raspberry leaves have powerful healing properties. They are used to manage pain, including menstrual pain, and can also help regulate periods and lessen other reproductive health issues.
Herb Distribution
Much of the community are either elderly or working class folks. Health concerns and busy work schedules make it difficult for them to find time to get their hands in the soil. It also means they struggle to access and prepare fresh food and herbs. We work with the community to get them the herbs and fresh food that can improve their health and quality of life.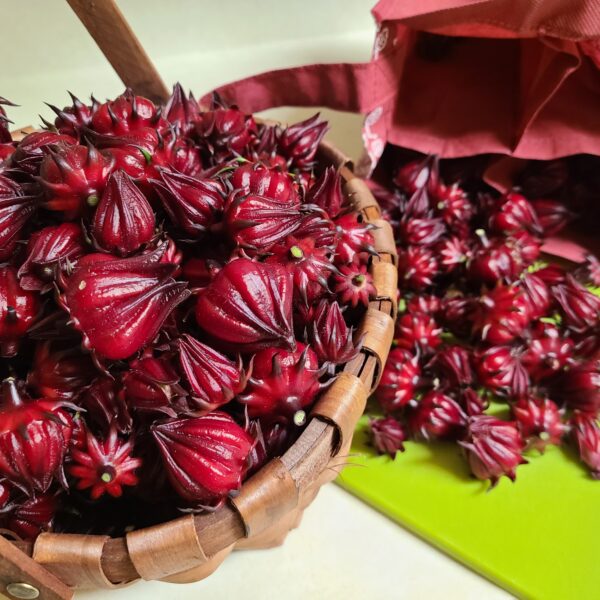 The Macon community garden includes prolific hibiscus plants. Cranberry hibiscus (Hibiscus acetosella) can be harvested for it leaves most of the growing season, while roselle hibiscus (Hibiscus sabdariffa) has two harvests in late Summer. Both these large bushy plants are used to make a tea that helps regulate high blood pressure. We harvest and process the hibiscus, keep some to use in making remedies, and redistribute the rest back to the community as tea.
The garden is also a staging ground for getting herbs and other plants into the community. Macon is one of the places where Weeds and Deeds brings potted herbs to give to community members. The only thing better than providing folks with herbal medicines is teaching them to grow it themselves.
Looking Forward
In 2021 we will be working to better get herbs to folks who need them. Including a way for community members to request the herbs they need to help manage their health. This combined with herbal education, will get natural remedies in the hands of people who have limited access to conventional health care.
Community Education
Herbal education works both ways. We go into communities with our herbs and our research hoping to help folks, but if things go right, we'll be learning something too. Cultural uses of herbs vary all over the world, and those traditional uses can point to healing properties outside that standard lists we find in most books. Educational opportunities arl limited at the movement, because of Covid 19, but in the future we will be teaching free classes on growing and using the herbal allies grown in the community garden.
In the meantime, we're doing what we can to share herbal knowledge with folks safely, one-on-one.